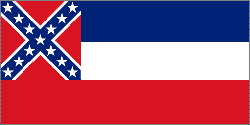 Mississippi
"Magnolia State"
Motto

Virtute et armis (By valor and arms)

Capitol

Name Origin

From an Indian word meaning "Father of Waters"

Statehood Date

Dec. 10, 1817 (20th)
Cities in Mississippi
NOTE: Not all cities are displayed. Please narrow your selection by using the search above.
Official Symbols
A state's official symbols represent the composition and culture of the land and people who live and have lived here. Below are the symbols of Mississippi along with the year they became official.
| | |
| --- | --- |
| Flower | Flower Or Bloom Of The Magnolia Or Evergreen Magnolia (1952) |
| Wildflower | Coreopsis (1991) |
| Tree | Magnolia (1938) |
| Bird | Mockingbird (1944) |
| Song | "Go, Mississippi" (1962) |
| Stone | Petrified Wood (1976) |
| Fish | Largemouth Or Black Bass (1974) |
| Insect | Honeybee (1980) |
| Shell | Oyster Shell (1974) |
| Water Mammal | Bottlenosed Dolphin Or Porpoise (1974) |
| Fossil | Prehistoric Whale (1981) |
| Land Mammal | White-Tailed Deer (1974), Red Fox (1997) |
| Waterfowl | Wood Duck (1974) |
| Beverage | Milk (1984) |
| Butterfly | Spicebush Swallowtail (1991) |
| Dance | Square Dance (1995) |
Demographics
Population Density

60.6 people per square mile
Geography and Weather
Land Area

46,907 sq mi. (121,489 sq km)

Lowest Elevation

0 ft (0 m)

Average Elevation

300 ft (91.44 m)

Highest Temperature Recorded

115°F (46°C) on July 29, 1930

Lowest Temperature Recorded

–19°F (–28°C) on January 30, 1966